Day 47 - A Soldier's Heart, another PBS Special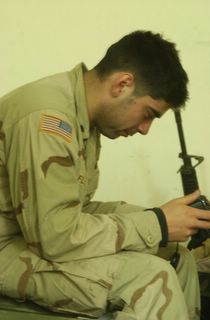 As the War in Iraq continues, the first measures of its psychological toll are coming in. A U.S. Army study estimates that more than one in six returning veterans are suffering from major depression, anxiety, or Post Traumatic Stress Disorder. For those who have survived the fighting, the battle is not over. For some, the return home can be as painful as war itself. FRONTLINE tells the stories of soldiers who have come home haunted by their experiences and asks whether the government is doing enough to help.
Although as many as five out of six soldiers return home healthy, information like this can help focus our prayers now to cover the particular stresses faced by some of our soldiers who have put their lives in harm's way on our behalf.
The PBS special airs Tuesday, March 1 at 8 p.m. CST. For more information, see:
http://www.pbs.org/wgbh/pages/frontline/shows/heart/
(Photo courtesy of dvidshub.net)