Day 101 - High Tech Hello's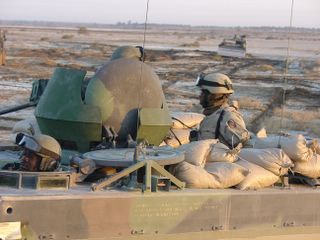 Guard Unit Gets High-Tech Help
Jackson, Miss.
The Associated Press
Officials say the Mississippi Army National Guard unit in Iraq is one of the first brigades to receive encrypted handheld radios designed to circumvent insurgents who monitor radio traffic.
Guard leaders have lauded the training and equipment available to the 155th Brigade Combat Team, which is made up of 3,500 Mississippi soldiers and others from Vermont and Arkansas.
Maj. Gen. Harold Cross, the state's adjutant general, says the radios will allow soldiers to communicate without the enemy being able to monitor their frequencies.
Soldiers say the secure radios will keep vital information from insurgents.
The 155th is assigned to the Second Marine Expeditionary Force and operates in the areas of Karbala, Najaf and Babil provinces of Iraq. The unit deployed from Camp Shelby in January.