Day 133B - Message from 155th INBN Commander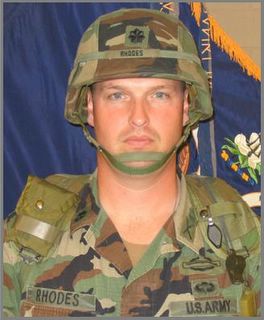 To the Families and Friends of the 1-155th IN BN (Mississippi Rifles):
We mourn the loss of our fallen comrades from C Company,
1-155 Infantry Battalion:
SPC Bryan Barron
CPL Audrey Lunsford
SPC Daniel Varnado
SSG Saburant "Sabot" Parker
Their platoon was conducting a combat patrol in a hostile area
northeast of Iskandaryiah, when an Improvised Explosive Device (IED)
detonated underneath their up-armored vehicle. Other members of the
platoon rushed to their aid but were unable to rescue them.
These four heroes upheld the highest traditions of the combat infantryman. They operated in hostile areas and regularly conducted combat patrols outside of safe confinements. They faced constant danger and risked their lives everyday while waging war against the enemy. Yet if given the choice, they would not have wanted it any other way. They didn't do this for fame or fortune; they did it because of who
they were and what they represented.
The Infantry lives by a code that cannot be purchased by money or learned from an institution. You have to experience it in order to understand it. These four brave warriors understood the meaning of fear, hardships, and sacrifices, but yet they continued their mission and asked for nothing in return.
I am honored to have served with such outstanding infantrymen. These four heroes will be remembered in many ways, but to us they will always be Mississippi Riflemen. They will continue to live through us, and we will always "STAND FAST" in their honor.
A Memorial Service was held for our four brothers-in-arms on
May 25, 2005.
I cannot go into much detail, but several individuals involved with of this attack have been captured. We should gather more information from these insurgents, so all of those responsible are brought to justice. We will continue to keep pressure on the insurgency and will patiently strike at the opportune time.
We are so thankful that SFC Ellis Martin was able to come home for a visit this week. We were thrilled to see his picture in the
Clarion Ledger
when he arrived in Jackson and heard about him on
WLBT's story
This was a special occasion to of us in the Mississippi Rifles.
We thank all of you for the outpouring support. We receive numerous packages and letters from Family Support Groups, schools, churches,and other organizations. I personally receive a package of school supplies every week from an organization back home. It is comforting to know that we are in your thoughts and prayers. Thank you again for your continued support.
John M. Rhodes
LTC, IN,
1-155 IN BN
Commanding
(Read Kevin Kelly's account of
Memorial Day service on base
, including two Purple Heart pinnings.)